Quality content creation is a mandatory blogging skill for Bloggers to write audience-engaging content. Quality Content is the best trick to give a more professional look to your blog. Only quality content can help your blog to rank higher in Google. The bounce rate also can be improved if you could publish a highly audience-engaging post.
Quality content creation covers keyword research, writing an eye-catchy title, creating something new and unique, adding visual content, managing content with proper headline and sub-headline, making it narrative.
Do you want to make sure you are creating grammatical-error-free and easily readable content?
Manually debugging spelling mistakes, grammatical errors, sentence structure is a time taking the task, but it can be done automatically with a wonderful Grammar checking tool.
Grammarly is an accurate online grammar checker tool you must try to improve
user-friendly content creation
.
I discovered Grammarly as a best grammar checker tool every blogger need to have in writing a quality blog post.
How can Bloggers utilize the power of Grammarly?
Grammarly is a standard online writing tool with an automatic grammatical error debugging feature. Integrating Grammarly in blogging helps you to increase the brand of a blog and attract more readers.
Quora:
Yes, you can easily use Grammarly to post quality answers in the Quora forum. It is tough to
drive traffic from Quora
because Quora moderator deletes answer that has
grammatical/spelling mistakes and error in sentence structure
.
Writing an error-free answer in Quora can be made easy with Grammarly.
Guest Posting:
Guest Posting is the right way to build do-follow backlink from high authority sites. A high authority site accepts a guest post that is easy to read with no grammatical errors and well-managed sentence structure.
A guest post must have
unique content with 0% plagiarism
. Grammarly is the best tool for bloggers to check piracy that compares your content to billions of blog posts available across the web.
Content Creation:
Content is the soul of every blogger, and high-quality content is the dream of a newbie blogger. With quality content, you can enforce readers return and visit your blog again and again. Search engine algorithms also love quality content.
Grammarly helps bloggers to create quality content. Grammarly detects all kind of grammar mistakes and suggests how to
debug these error and mistakes
with the right guideline.
To create quality content, you must make it user readable. -Grammarly tool help to create user-readable content with its spell check feature. Grammarly
finds out spelling mistakes
in both small word and long phrase.
Grammarly automatically
checks proper punctuation
and suggest the right punctuation placement inside your content. Grammarly easily detects missing punctuation and advice to correct the punctuation.
How Grammarly works?
Once you create a free Grammarly account signing with either Facebook or Google, you will be redirected to Grammarly Dashboard.
Grammarly Dashboard
To start with Grammarly, directly either upload or paste your document.
To adjust Grammarly's feedback, you can set goals according to
Audience
,
Intent
,
Style
,
Domain
and
Emotion
. This adjustment helps
Grammarly AI
to propose helpful suggestions for your content.
You can set writing goals based on your Domain like academic, technical or business.
Beside the Grammarly Dashboard option, you can
install a browser extension
which allows writing unique proofreader content in your Blogging platform (
Blogspot or WordPress
) without grammar error.
Grammarly will auto-detect errors and provide suggestion to correct the mistakes while you are writing a new blog post on your blogging platform.
Grammarly Free Vs. Grammarly Premium
You can use Grammarly writing tool in both free and premium version. While free version has most of the features of premium Grammarly, but Premium Grammarly provides advanced A.I. grammar checker, Plagiarism checker, and vocabulary enhancement suggestions.
With this chart, you will know the difference between the free and premium version of Grammarly.
Using the same word or keyword inside content is spamdexing SEO technique. Grammarly premium version efficiently manages overused or repeated words and save your blog post from
Google penalties
. Grammarly premium version detects repetitive words and suggests to replace that word with its synonym.
With Grammarly premium version you can choose
different Domains
while adjusting Grammarly's suggestion and premium version also provides detailed information about each of your sentence structure & grammar error.
The Plagiarism Detector: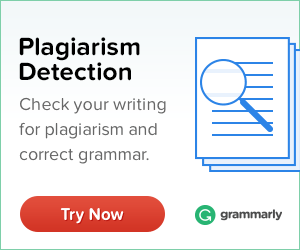 Plagiarism checking feature is available in your premium Grammarly account, which is loved by every blogger and content writer. While creating content, it is mandatory to check if there is a copied or unoriginal text.
Grammarly helps a blogger to create original and unique content by checking every text and comparing it against a database of over 10 billion pages across the web.
Check the Word Order:
Creating quality content not only indicate to write original text with proper styling and format. There are many minor mistakes inside our content which must be considered before publishing. Order of words is another critical point to be recognized by a blogger to make easily readable content.
Grammarly automatically detects if the modifiers are in the wrong order and guide to change the word order that improves the quality of content.
How Much Does Premium Grammarly Cost?
If you want to start professional blogging by writing 100% original and high-quality content with well-managed sentence structure, then Grammarly is the best editing tool you must have.
AI-enabled Proofreader Grammarly to write SEO Friendly Article
Reviewed by
bipinSEO
on
April 05, 2019
Rating: